Copaken Brooks celebrates 100 years of leading commercial real estate in Kansas City
Kansas City, Mo. — 2022 marks Copaken Brooks' 100th year in Kansas City, capping off a century of pioneering commercial real estate throughout the region.
Over 100 years, Copaken Brooks has shaped the geography of Kansas City through developing, leasing, and managing many of the metro's significant legacy properties. Today, Copaken Brooks maintains a nationwide client base by providing expert representation and advisory services for tenants, landlords, corporations, investors, and developers.
Copaken Brooks currently manages and leases nearly 6.0 million square feet of operating properties and has developed more than 14.5 million square feet to date.
Copaken Realtors, Copaken Brooks predecessor firm, was founded in 1922 by Herman Copaken. In 1965 Copaken Realtors changed its name to Copaken White & Blitt under brothers-in-law, Lewis White, Irwin Blitt and Paul Copaken. In 2010, the firm adopted its current name through the merging of Copaken White & Blitt —which was then being led by Keith and Jon Copaken — and First Scout Realty Advisors, which was founded in 1991 by Bucky Brooks.
Some of the Copaken Brooks' most foundational properties in Kansas City include corporate office, industrial and retail mainstays such as Nordstrom at Oak Park Mall, Town Pavilion, City Center Lenexa, Cambridge Crest, The Plaza Colonnade, 1201 Walnut, Corrigan Station and Arterra, to name a few. Copaken Brooks has led the charge on some of the most enduring development projects in Kansas City and its surrounding districts. The firm was instrumental in shaping the entire southeast quadrant of College Boulevard and Metcalf Avenue in Overland Park and in creating a new downtown in Lenexa, as well as in developing the iconic Town Pavilion and 1201 Walnut, two of the tallest buildings in Kansas City's skyline. Copaken Brooks also led two of the first high-rise apartment projects in the Crossroads Arts District, overall providing immeasurable value to developing projects throughout Kansas City.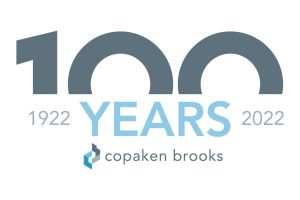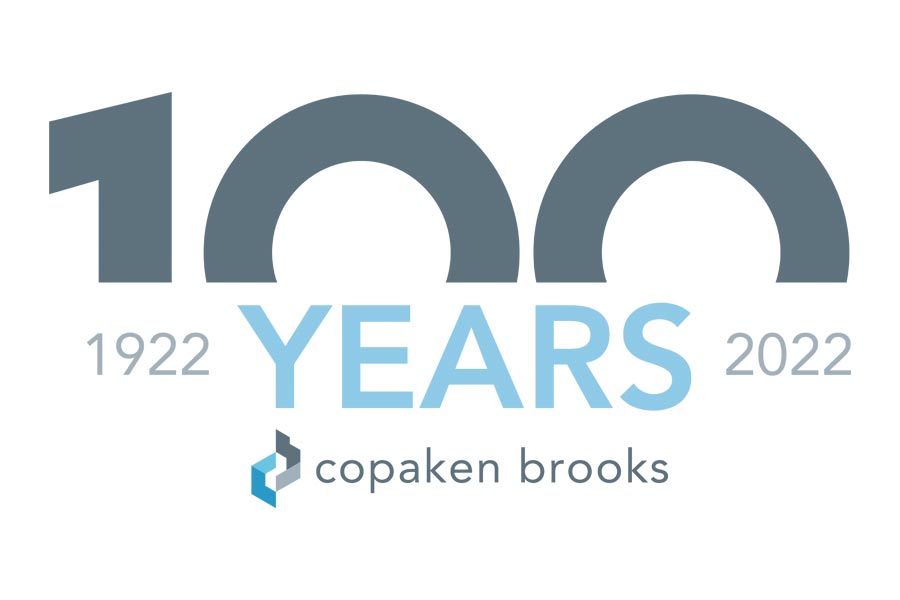 In honor of its 100-year milestone, Copaken Brooks has unveiled its new logo to the public, a visual representation of the firm's commitment to excellence and deep roots in Kansas City. With a dedication to quality client service and community involvement, Copaken Brooks plans to continue doing better deals for those it serves through its full-service approach to commercial real estate.
"At the dawn of our centennial year, we're celebrating our rich history, our community ties, our clients and our success as we continue looking to the future," said Principals Jon Copaken, Keith Copaken and Bucky Brooks in a written statement. "We've been so honored to be placemakers in shaping the landscape of Kansas City and its suburbs as they've grown over the last century into the beautiful city we know and love today. We could not have accomplished this alone. Our team's tenacious drive, decades of experience and commitment to building Kansas City have enabled us to build the foundation for Copaken Brooks to continue shaping the region for the next 100 years to come."
About Copaken Brooks
Copaken Brooks is a full-service commercial real estate firm headquartered in Kansas City and serving the Midwest. For 100 years, the company has maintained a national client base with a full suite of services including investment acquisition and sales, tenant representation and HQ relocations, property management, asset management, development, construction management, owner's representation and leasing (office, retail, medical, industrial and underground). Learn more at copaken-brooks.com.