Copaken Brooks introduces new campaign to bolster economic development in downtown KC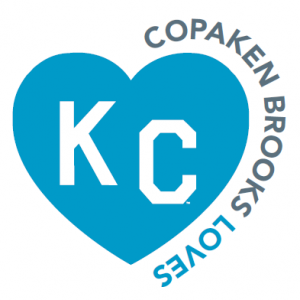 Kansas City, Missouri – Downtown Kansas City not only serves as the cultural and historical heart of the region, it's also the economic engine of the greater metropolitan area. In fact, the Downtown Council of Kansas City reports that downtown generates more than $3.5 billion in wealth annually among tens of thousands of employees, and serves as the prime driver of the region's success through generated tax revenue the city uses for improvements and services across the metro.
To actively invest in that continued success, Copaken Brooks is launching the "Copaken Brooks Loves KC" campaign, a visual mark to represent the collective effort to promote downtown and build on its future development. The mark – which will appear on construction wraps, signage and other materials downtown in the coming months – incorporates the recognizable KC heart as a way to show the company's ongoing support of the KC Heartland Campaign, which uses the icon to amplify the region's global identity.
"For nearly a century, we've been building and growing our city, and this new mark is just an outward sign of our commitment to downtown's economic development," said Keith and Jon Copaken, principals at Copaken Brooks. "The unprecedented events of this year have only reinforced the importance of community and the work being done by organizations across our region. We have no doubt that Kansas City will not only weather this storm but also emerge stronger because of these efforts."
While the pandemic has stalled or damaged many businesses around the city, new development has continued for the most part, a positive sign of economic growth, Copaken said. The company plans to work with its partners to continue the momentum of recent years, especially the new commercial and residential developments underway in downtown.
"We're thrilled to see Copaken Brooks embrace the KC Heartland Campaign alongside many organizations throughout the region," said Tim Cowden, president and CEO of the Kansas City Area Development Council. "The KC heart has been a symbol of our community for more than century—signifying our heritage, our culture and our welcoming, open and collaborative spirit."
Several development and construction projects are currently underway or have recently been completed by Copaken Brooks, including:
REVERB, a 14-story, 132-unit distinctive apartment building at 18th and Walnut in the Crossroads Arts District
Arterra, a 12-story luxury residential tower and the first high-rise apartment project to be built in the Crossroads Arts District
Demolition of the former Kansas City Public Library and Board of Education Building in downtown, an 11-story, mid-century modern structure that's underway for a future mixed-use project
Future downtown developments include:
Construction activity has been building in recent years – due in large part to the success of the streetcar – to accommodate new and expanding businesses. In fact, the Downtown Council reports that close to half of the building permits issued in 2018 were for commercial and residential developments. This kind of activity is crucial for the future success of the region:
"Downtown is surging right now, and the data shows we're truly building an exciting momentum of employment growth and taxable earnings," Jon Copaken said. "It's imperative that we stay focused on these efforts so the entire region can benefit tomorrow from what we do today."
###
Take a selfie outside your favorite downtown spot: a restaurant or café, a park or trail, maybe the best museum.
OR: Shoot a quick video telling the rest of the city what you love.
Upload your photo or video (and be sure to tell us why you love your spot).
We'll compile the submissions and share them through social media! #CBLovesK