KC, share your excitement with your friends and neighbors through our "Copaken Brooks Loves KC" campaign!
Launched this summer, the campaign represents the collective effort to promote downtown and build on its future development. Incorporating the recognizable KC heart, the new campaign mark will appear on construction wraps, signage and other materials downtown in the coming months as a way to show our ongoing support of downtown, the cultural and historical heart of our region.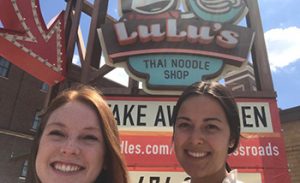 We're inviting our employees, friends and neighbors to share in spreading some excitement of their own! Here's how:
Take a selfie outside your favorite downtown spot: a restaurant or café, a park or trail, maybe the best museum.
OR: Shoot a quick video telling the rest of the city what you love.
Upload your photo or video below (and be sure to tell us why you love your spot).
We'll compile the submissions and share them through social media! #CBLovesKC
While the pandemic has stalled or damaged many businesses, we're proud to work with our partners to continue the momentum of recent years, especially the new commercial and residential developments underway in downtown. Join us as we show our love for KC!