Copaken Brooks featured on Grill Nation radio show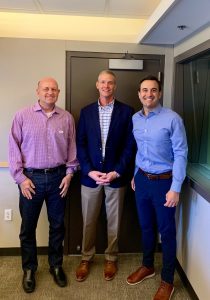 Thanks to everyone who tuned in Saturday to hear Jason Grill interview Copaken Brooks Principal Jon Copaken and Senior Vice President of Brokerage Ryan Biery on Grill Nation Show on KMBZ 980AM.
Miss the show? We've got you covered. Below are links to the show along with links to individual segments covering current projects, future projects and commercial real estate trends sweeping the Midwest.
Enjoy the below segment (courtesy of Grill Nation) exploring properties like Arterra and Corrigan Station in the Crossroads.
To listen to the full show, visit Apple podcasts or Grill Nation's website.
About Grill Nation: Saturdays 4-5pm Talk 980AM. Online at Talk980am.com. Jason Grill is the Founder of JGrill Media, Co-Founder of Sock 101, Attorney and Founder and Host of Grill Nation on the KMBZ Business Channel. He is a former two-term member of the Missouri House of Representatives and has worked in the White House and at CNN. Jason has been featured and contributed to the Huffington Post, Inc., Yahoo, Time, Forbes, Politico, Mashable, Fox Business and Success Magazine. He has appeared on Wall Street Journal Radio and the Mitch Albom Show, as well as served as a political analyst on Fox 4 in Kansas City.