Opportunistic—in all the right ways
The word "opportunity" often feels a little cliched. It's always the subject of some inspirational quote superimposed over a mountaintop or a sandy beach—the staple artwork of any high school guidance counselor. But one opportunity quote has always stood out for me:
"Nothing is more expensive than a missed opportunity."
Commercial real estate has traditionally been a steady and stable market. In fact, prices of commercial properties had another strong 2017 and 2018, averaging more than a 9 percent increase, and current prices are close to 30 percent higher than the peak they achieved in 2007. Even the recent interest rate hikes aren't expected to pose much of a threat to those great gains.
Of course, the 2008 tumble reminded us that nothing is a sure bet, and success in this business requires not only knowledge but also nimbleness. Now, that's not a saying you'll see on the next run of inspirational posters, but it's the only way to seize valuable opportunities when they present themselves. So, while "opportunistic" may usually be seen as a negative attribute, we've learned we need to take advantage of the chances we get if we hope to keep moving our city forward.
From malls to mixed-use
When you've been around as long as we have, you witness the pendulum swinging both ways—and nothing sums up both sides of a commercial real estate trend like the indoor shopping mall.
Oak Park Mall, one of my father's and uncle's premier development achievements, opened in 1976 in a new era of retail shopping. The center was even featured on a 1982 CBS News special report called "The Mall," highlighting the meteoric rise of these indoor megaplexes.
The development was a good example of Copaken, White & Blitt being opportunistic in a quickly growing area of the metro.
Of course, no matter how many childhood memories we all have of our local malls, the times have changed, and so have our shopping preferences. The rise of online shopping has had a profound impact on consumer behavior and retail presence in our local communities. For starters, many of these large department stores now do a large portion of their business online, which makes those physical footprints even more costly and inefficient.
And this decline is being felt around the country: While Oak Park is still strong, vacancy rates at our nation's malls overall are at the highest since 2012, and retail tenants are closing up in both low- and high-quality malls, in both affluent and modest geographic regions. Some malls are closing entirely, often leaving hulked masses of blight in their respective communities.
Smart developers quickly realized that too many eggs in the mall basket is not a recipe for success. The pivot now is to mixed-use, a trend that's made its way to the Midwest and recently here in Kansas City. We're seeing the valuable opportunity that exists for "placemaking"—to create somewhere people want to live and visit, that's walkable, sustainable and accessible. We're seeing the popularity of these mixed-use spaces not only in urban areas, like the Crossroads, but also in the suburbs in developments like City Center Lenexa.
The opportunity in multifamily
While we spend a lot of time measuring and evaluating how our properties have performed in the past, we also spend an equal amount of time looking to the future, doing our best to predict where the commercial real estate market is headed—all to seize the next big opportunity.
For us, that came in residential. Back in 2007, we acquired some land in the Crossroads for a potential condominium project. However, as the recession hit the local real estate market, progress stalled and the land remained vacant while the economy recovered.
In the decade that followed, neighborhood rents increased, the area started to develop, and we teamed with St. Louis-based Altus Properties to continue the development of Arterra—the first high-rise apartment tower in the Crossroads.
In fact, multifamily is on the rise across the nation: The sector has been beating all other commercial real estate sectors recently, boasting a 12.2 percent price increase over the last year. And prices overall are about 50 percent higher than their peak before the 2008 downturn. We're also watching how the new tax law may increase more demand in multifamily because it's taken away certain perks of owning a home (and thus increasing the attractiveness of renting).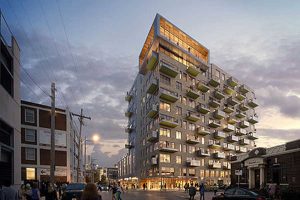 While Arterra was our first foray into multifamily, we have extensive experience in mixed-use projects that include residential. Plus, we had the market knowledge and the courage to jump in when the water was just right—to snag that big opportunity.
Arterra is set to open Jan. 1, featuring one-, two- and three-bedroom apartments, along with first-floor retail, a fifth-floor deck pool, a social lounge, a yoga studio, a pet spa, chef-inspired kitchens, private balconies, and many other luxury amenities. And don't forget those incredible views of the Liberty Memorial, Penn Valley Park and the downtown skyline.
I'm proud of not only our expertise to bring this amazing project to life but also our ability to partner with other talented firms that share our approach.
To be a part of this amazing evolution we're witnessing in Kansas City right now, it all comes down to your ability to seize opportunities when they come your way.
Or, as the clichéd poster would put it, "When opportunity knocks, you have to open the door."
Jon Copaken is a principal with Copaken Brooks, a full-service commercial real estate firm headquartered in Kansas City and serving the Midwest. The company's full suite of services includes: property management, construction management, leasing (office, medical, retail and industrial), investment acquisition and sales, tenant representation and HQ relocations, condo management, asset management, and development. Share your thoughts on our Facebook page or on Twitter @CopakenBrooks.