Renaissance Park is successful mixed-use example in prime location
SITUATION
In the late 1950s, the land facing College Boulevard that would eventually become the Sprint World Headquarters campus, the Renaissance Park development and Corporate Woods was open, undeveloped ground. In fact, College Boulevard was still just a two-lane gravel road.
However, a group of investors that included the Copaken, White and Blitt families envisioned the growth of the Kansas City area heading south and had the foresight to purchase large quarter sections of land in that region, which would eventually become these landmark projects. By the 1980s, the College Boulevard corridor, including the 40-acre Renaissance Park, began to develop.
STRATEGY
The first two buildings in Renaissance Park were multi-tenant, built in 1984 and 1986, and were Copaken's first entry into suburban office development. Renaissance III was built more than a decade later in 1998 as the corporate headquarters for Universal Underwriters Group. The company was a tenant in Renaissance II, but when its growth warranted a headquarters building, the company conducted a national competition, which Copaken Brooks won.
Because of the strong relationship Copaken Brooks had with Universal Underwriters – working out the expansion of UUG when it needed to grow – Copaken Brooks was able to keep the company in Overland Park. As a tenant, Universal worked closely with Copaken Brooks during the design process to create a build-to-suit headquarters that fit the company's unique needs—and one it could be proud of. The new 240,000-square-feet building opened in 1999.
Underwriters Universal was later acquired by Zurich Insurance Group in 2006, but the company remained in the building, which was commonly referred to as "The Zurich Building" in the years that followed. (Like before, when Zurich needed to expand or contract, Copaken Brooks worked with the company to extend its lease and backfill unused space with the fast-growing InTouch Solutions, a full-service marketing agency.)
RESULTS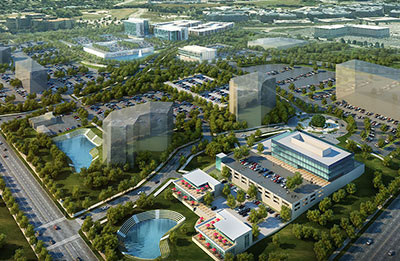 In 2015, Copaken Brooks represented the investment group that sold Renaissance III to St. Paul Fire and Marine Insurance Co. Inc., a subsidiary of The Travelers Cos. Inc. The property sold for a high-water sales mark for College Boulevard properties at that time (and still to this day).
Today, Renaissance Park stands as a successful example of a high-quality, mixed-use development that offers multiple sites and use options for companies seeking a signature location in one of Johnson County's most sought-after corridors. (Copaken Brooks is actively developing a wide variety of product types and development sites there today.)
The development is ideal for office, retail, hospitality, multi-family or medical uses, and has become the "100% location" for suburban, College Boulevard development. It offers ample parking with surface and covered options as well as great highway visibility and access.