Neighborhood Wendy's is rebuilt with help from construction manager
SITUATION
At 2:36 p.m. on Feb. 26, 2020 – in the middle of a typical post-lunch lull – firefighters were called to do battle at a Wendy's location in
Kansas City, Kansas. The crew extinguished the blaze in less than an hour, but the damage to the neighborhood favorite had been done—the building was a total loss.
The owner of the property – Kirk Williams with Legacy Restaurant Group – chose to immediately raze the damaged structure and begin the rebuilding process. Williams said he recognized the many balls he needed to juggle, and that he needed professional assistance to handle the rebuild so he could focus on everything else.
"I was having trouble keeping up with all the details of the variety of construction and development projects we had in front of us," he said.
SOLUTION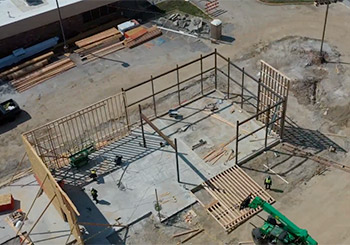 Williams wanted to reopen as quickly as possible, so he contacted Jon Ng, construction manager at Copaken Brooks, to oversee the project, with construction kicking off on July 14. The construction management team helped maintain the project budget and schedule, and oversaw all coordination between Legacy and the third-party vendors (such as the kitchen equipment supplier, POS software and hardware vendor, security company, sign vendor, etc.), as well as with the GC and subcontractors.
Because of the established relationships Copaken Brooks had with local vendors and contractors, the team was able to deliver a finished project in just 90 days, despite two weeks of delays due to rain.
RESULTS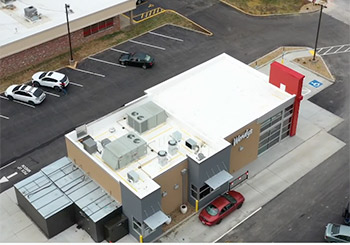 With construction complete on the new Wendy's, Williams said his partnership with Copaken Brooks and experience using a third-party construction manager for his project was extremely valuable. He especially valued Jon's expertise through the lifecycle of the build.
"I knew of Jon, I knew he was a get-things-done person," he said. "I really appreciated his insight, his ability to get things done. He comes to meetings ready, the agenda's tight and handed out to everyone. He does a great job."