Lenexa improves 'new downtown' with third-party construction management
SITUATION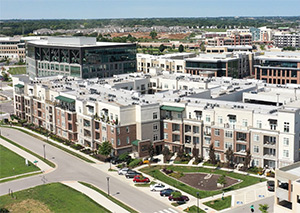 Once fully developed, Lenexa City Center – the city of Lenexa's "new downtown" – will consist of more than 2 million square feet, including civic components, nearly 1 million square feet of office and retail, and 375 residential units. In late 2019, the city began working on the required improvements to the public infrastructure in and around the new development.
Scarborough Street needed to be extended southeasterly for approximately 680 feet, and Hampton Street, a local road, needed to be constructed running north to south for approximately 330 feet. Both new streets needed concrete curbs and gutters, parking, sidewalks, asphalt pavement, street lighting, landscaping, storm sewer drainage pipes, and associated utility relocation.
Because Copaken Brooks owned the property being served by the proposed improvement project – and because the infrastructure needed to accommodate current and future buildings – the city chose to engage Copaken Brooks as a third-party construction manager on the project.
SOLUTION
To allow the designer and contractor to better coordinate between the public and private infrastructure, the city hired the same engineering firm, GBA and contractor being used by Copaken Brooks for the buildings under construction. This allowed the city and Copaken Brooks to closely coordinate on all aspects of the projects.
The construction management team at Copaken Brooks provided valuable knowledge of industry standards and best practices, while bringing independent project oversight of the project on behalf of the city. The team built the budget for the infrastructure improvements and held progress meetings to ensure each piece of the project stayed on schedule.
With limited space for utilities within the development (which forced all installations beneath the pavement), the Copaken Brooks team coordinated all utility sequencing and scheduling. The team also ensured access to the site for all subcontractors—even while working with a local contractor to construct a new multi-tenant building adjacent to the road improvement work. All three parties met weekly to coordinate the scheduling of all projects.
RESULTS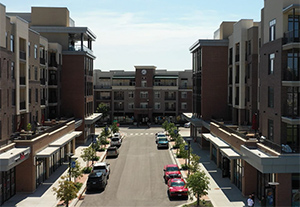 The Copaken Brooks construction manager oversaw all work – both public- and privately funded – occurring on-site. The city was especially thankful to have a partner that allowed Lenexa staff to see the "big picture," said Tim Green, Lenexa's city engineer and deputy director for community development.
"On an urban-type project such as this, the line between public and private infrastructure is often blurred," he said. "So to have a construction manager overseeing all work was essential to the successful completion of the project. Copaken Brooks was able to provide insight into the private development schedule and potential conflicts so that the overall development schedule was met."
Green also said the expertise and knowledge Copaken Brooks and Construction Manager Chris Tschirhart brought to the various projects were critical to their success.
"They were well-informed and always on top of construction activities and schedule," he said. "When a conflict or issue arose, Chris would be available to coordinate a solution at a moment's notice. Chris and his team were a great asset and invaluable to the success of the project."