Klover Architects to relocate to Penn III at CCL
(Lenexa, Kan.) Copaken Brooks is excited to announce that Klover Architects, the firm behind the design of The District and the master plan of City Center Lenexa, will be relocating from 10955 Lowell in Overland Park to The District at City Center Lenexa starting Nov. 1. Klover will lease 7,261 square feet of the Penn III building.
Founded in 1990 by Henry Klover and Danny Potts, Klover is a full-service design firm specializing in retail, mixed-use, office, restaurant and hospitality markets. Registered in all 50 states and Washington, D.C., Klover prides itself on providing innovative design solutions for the real world.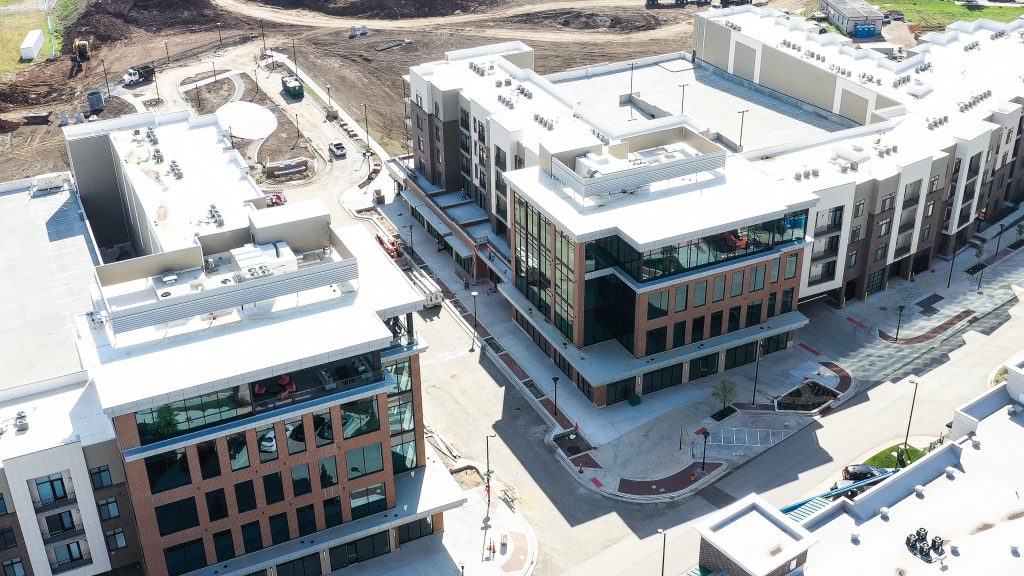 "We've overseen The District's design process, from preliminary city planning renderings through construction administration, and we couldn't be more pleased with how it's come to life," said Henry Klover, Founding Principal and President at Klover. "It's incredible what can be done when the industry's best professionals unite to advance a shared vision for the community, and we're thrilled to soon call this up-and-coming mixed-use development home."
The District at City Center Lenexa is located in the urban-suburban destination where retail, corporate, residential, civic and recreational interest have come together to create an experience unlike any other in the region. When fully developed, City Center Lenexa will consist of more than 2 million square feet, including civic components for the City of Lenexa, nearly 1 million square feet of office and retail space, and 375 residential units.
"We're very pleased to have Klover locate its headquarters in a signature development that they designed. This location in City Center Lenexa will certainly give them a competitive advantage to recruit and retain the best and brightest talent," said Ryan Biery, Senior Vice President at Copaken Brooks.
###
About Copaken Brooks: Copaken Brooks is a full-service commercial real estate firm headquartered in Kansas City and serving the Midwest. The company's full suite of services includes investment acquisition and sales, tenant representation and HQ relocations, condo management, property management, asset management, development, leasing (office, retail, medical, industrial and underground), and construction management. Learn more at copaken-brooks.com.
About Klover Architects: Klover Architects, Inc. is an award-winning national firm that specializes in multiple design facets and intricacies within residential, mixed-use and community centered developments with 30 years of work history in all 50 states. Our innovative and creative solutions, whether it be residential, retail, office, world headquarters or others we find ways to maintain design excellence in each project with real-world practicality, and cost effectiveness. These are but a few strengths we use in the complex dynamics that come with a collaborative leadership role and proactive design approach to our projects. We strive with each, to make the process easy,