Grundfos partners with Copaken Brooks on new build-to-suit office
SITUATION
As a global leader in high-tech water pumps and systems, Denmark-based Grundfos employs 1,300 people in the United States and nearly 18,000 globally. The company's North American headquarters opened in Olathe in 2001.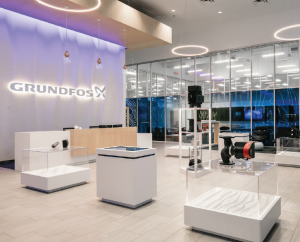 In 2006, Grundfos was looking to expand to Lenexa, and was first introduced to Copaken Brooks by the Lenexa City Manager. After viewing available buildings, Grundfos decided in 2007 to purchase 14 acres at I-435 and 95th Street for a new headquarters. The economic downturn stalled the project, but Copaken Brooks remained in contact with company leadership over the ensuing years.
In 2013, Grundfos decided to move its North American leadership to Chicago but still maintain a large presence in the Kansas City area by developing the Lenexa land they had purchased. However, the parcel was larger than necessary, and their current facility wasn't representative of their culture or the other facilities they owned around the world.
STRATEGY
Once Grundfos was ready to move forward, Copaken Brooks interviewed and won the rights to develop the new project. The company purchased seven of the original 14 acres and began working on a plan for a customized build-to-suit facility.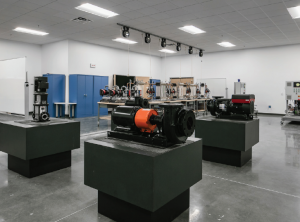 Grundfos hoped to mirror a certain standard and look represented in many of their other buildings and work spaces around the world, and a new build-to-suit office gave them that opportunity, instead of trying to fit in to an existing building or space.
Despite the challenge of adhering to guidelines and oversight from the company's European base – which were then relayed to Chicago and then again to Kansas City – Copaken Brooks was able to navigate the international challenges to move the project forward. Keith Copaken felt everyone was always working toward the same goal:
"We all wanted to build a top-quality facility," he said. "It was really important that they felt invested in the process and in the outcomes. That takes time but ultimately delivers a better result because Grundfos really designed and built the home they're living in."
Copaken Brooks attended weekly meetings with the general contractor, and the combined team exchanged ideas, modified plans as necessary, and created an open and collaborative process. Copaken Brooks ensured that Grundfos' needs were aligned with the builder's schedule and resources.
RESULTS
The ribbon-cutting for the new 40,000-square-foot building was held on Oct. 10, 2018. The new facility replaced the Olathe office, and continues to house the company's customer service, technical training, marketing, business development and other support functions.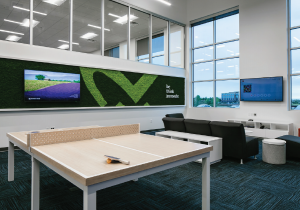 Considered a LEED-certified design facility, the office includes a number of energy-efficient features, such as LED lighting, an energy efficient HVAC system powered by Grundfos' Hydro MPC and MAGNA3, hot water recirculation, a Grundfos Engineered System pump house to maintain water level in an on-site pond, and supplemental heat provided to the lobby
through a geothermal loop.
Other employee amenities include a café area, game room, fitness room, experience rooms, lecture hall, training room and a training video production studio. After considering multiple floor plans, the team decided on an open office environment for employees.
"Copaken Brooks worked with us through the process and helped us connect with local clients, arranged tours and coordinated vendors on our behalf," said Kirk Vigil, vice president of sales at Grundfos. "We had specific needs for a training center and innovative conference areas, and Copaken Brooks was supportive and aligned throughout."
While a Copaken Brooks entity owns the building and leases to Grundfos, the project was truly customized for the company, and Vigil said it already feels like home—and credits Copaken Brooks for their role in the project.
"There is a sense of contentment amongst the staff," he said. "The new building is leaps and bounds beyond our previous building, and employees appreciate the comfort and amenities. The objective from day one was to build a structure and relationship that was mutually beneficial, and throughout the planning and building process, our relationship was open, candid and aligned. Everyone from Copaken Brooks treated us like a partner."