KC will get first look at Corrigan II at July 5 event
During the next First Friday in the Crossroads, the Kansas City community will get its first look at Corrigan II, the exciting second phase of Corrigan Station alongside the ParC that sites between the two buildings. The event will be held Friday, July 5 from 4 to 6 p.m.
Corrigan Station II is an innovative new addition to the iconic historic landmark that recently gained new life as a vibrant, mixed-use destination for tenants and visitors.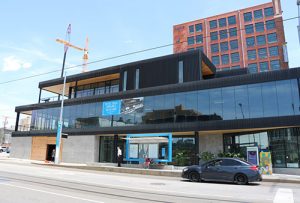 Located in the heart of the Crossroads Arts District, the 22,910-square-foot building offers great access, connectivity and desirable amenities—a perfect fit for companies seeking an innovative and progressive work space. It includes flexible space options on a single floor or multiple floors.
The ParC at Corrigan Station is the green space with seating in between the two buildings. The area will be provide a small fast-casual restaurant, Ravenous. Ravenous will feature a signature Covino cheeseburger, chicken sandwiches, veggie bowls, fried, malts, and fried pies through a counter service. The ParC allows for ample outdoor seating in a unique, modern setting. Once fully open, Ravenous will be open seven days a week from 11:00 AM to 7:00 PM and later on First Fridays.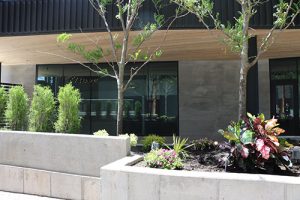 The Corrigan Station garage was developed for the Corrigan Station phases and is conveniently located within walking distance for tenants and guests. It's centrally located in the Crossroads Arts District with easy access to the Power & Light District and Crown Center adjacent to the new $100 million KC Streetcar line connecting River Market, the Central Business District, and Crown Center.
Learn more about the project and check out the latest construction progress, and then join us on July 5 for the First Look event, hosted jointly by Copaken Brooks and 3D Development.
Corrigan II is located at 1881 Walnut in Kansas City, Mo.