Copaken Brooks to break ground at Restaurant Row in Lenexa City Center with two new restaurant concepts
Kansas City, Missouri – Copaken Brooks will break ground on the highly-anticipated Restaurant Row at Lenexa City Center. Located on the corner of 87th Street and Renner Boulevard, the project is adjacent to  AdventHealth's 13-building campus currently under construction. The first phase for Restaurant Row will include two restaurant concepts opening in the Fall of 2024, with two remaining spaces for lease. 
"Lenexa City Center remains in high demand for restaurants, retail, and office," said Keith Copaken, principal of Copaken Brooks. "We are excited to bring Restaurant Row to fruition and introduce exciting new restaurant concepts to the area."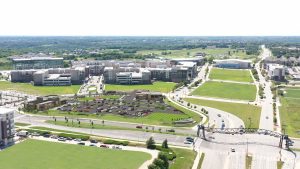 Copaken Brooks welcomes the newest tenant for the first phase of Restaurant Row, Cactus Grill TexMex & Tequila, a local KC homegrown concept that has been around for more than 30 years. Best known for its Top Shelf Tex-Mex, high-vibe decor and freshly squeezed hand-crafted margaritas, it is the perfect example of an elevated dining experience that is still casual and lively. Cactus Grill will take 5,000 SF on the North Endcap Building adjacent to 87th Street. Restaurant Row will be the 3rd location following Cactus Grill's original location in Leawood and the newest in BluHawk.  
"Our two locations in Johnson County continue to be in high demand," said Jody Sight, Director of Human Resources for Cactus Grill. "We couldn't be more excited to open our new, third location at Restaurant Row in Lenexa City Center to share our Top Shelf Tex-Mex with the Lenexa community." 
North Carolina-based Tupelo Honey joins Cactus Grill in the 5,700 SF East Endcap of Restaurant Row, adjacent to Renner Road. Tupelo Honey was born in the Appalachian Mountains over 23 years ago. The Carolina-inspired restaurant is known for its scratch-made, responsibly sourced dishes and craft cocktails. Tupelo Honey currently has 21 locations across the United States with six additional planned to open in the next 18-24 months.  
"Southern food and traditions are all based on building community, and there is no better place to build a loyal group of customers than in a growing and walkable development," said Christin Prince, Senior Vice President for Tupelo Honey. "Restaurant Row at Lenexa City Center is the perfect location to share a little bit of Appalachia with Kansas City." 
"Both Cactus Grill and Tupelo Honey are perfect additions to this exciting development," said Erin Johnston, VP of Retail Brokerage at Copaken Brooks. "As the City Center area continues to grow, these two exciting restaurants will be a huge draw for customers from across the city as well as the nearly 200,000 people within just a few miles living and working each day." 
Cactus Grill was represented by John Nolan from Crossroads Real Estate Group, and Tupelo Honey was represented by Howard Zoldessy, from Hatcher-Hill Brokerage, LLC.  
Ideally positioned at the intersection of 87th Street and Renner Boulevard, Restaurant Row at Lenexa City Center provides proximity to the walkable Lenexa City Center and the future site of the Advent Health campus. Restaurant tenants take advantage of foot traffic from the surrounding businesses as well as from nearby developments including the Lenexa Recreation Center, Lenexa City Hall, Canyon Farms Golf Club, The Domain & District Flats Apartment Communities, Kiewit Headquarters, and more. Future development phases for Restaurant Row at Lenexa City Center include an additional 10,000 square feet of restaurant and retail space and 50,000 square feet of office space.
###
About Copaken Brooks
Copaken Brooks is a full-service commercial real estate firm headquartered in Kansas City and serving the Midwest. For over 100 years, the company has maintained a national client base with a full suite of services including investment acquisition and sales, tenant representation and HQ relocations, property management, asset management, development, owner's representation and leasing (office, retail, medical, industrial and underground). Learn more at copaken-brooks.com.