Four Amenities that Boost Commercial Property Values
Everyone's been in a plain old office building. Sure, the large glass windows give great views and even feel futuristic at times, but that can't be the final evolution of the modern commercial real estate building … right? 
Commercial real estate is constantly evolving. From the ever-changing occupancy rates of commercial office buildings to growing tenant expectations for office amenities, commercial property owners are looking to property managers to provide competitive value for their buildings.  
Amenities are powerful demand drivers in today's market. Leading commercial property owners are investing in state-of-the-art amenities like health and wellness centers, hospitality and security, outdoor spaces and community involvement and belonging programs. As property managers, we are the people who can help identify amenities that fit the unique needs to the building and its tenants. 
Value-Add Commercial Property Amenities
Tenant requirements are only increasing. By 2025, JLL research shows that commercial properties with diverse amenities will have 12% higher demand from tenants compared to the average non-amenity property.
As property managers and building owners look to add amenities, there are four amenity additions that make a big difference in the tenant's experience. 
Health and Wellness Center
Health and wellness centers are one of the most popular amenity additions to office buildings. Introducing or expanding a subsidized gym is a valuable amenity that has been shown to increase the likelihood of employees wanting to come back into the office.
In Ware Malcomb's 2022 Pulse Survey, nearly 20% of respondents ranked on-site health and wellness facilities in their top three amenities that add the most value to the employee experience.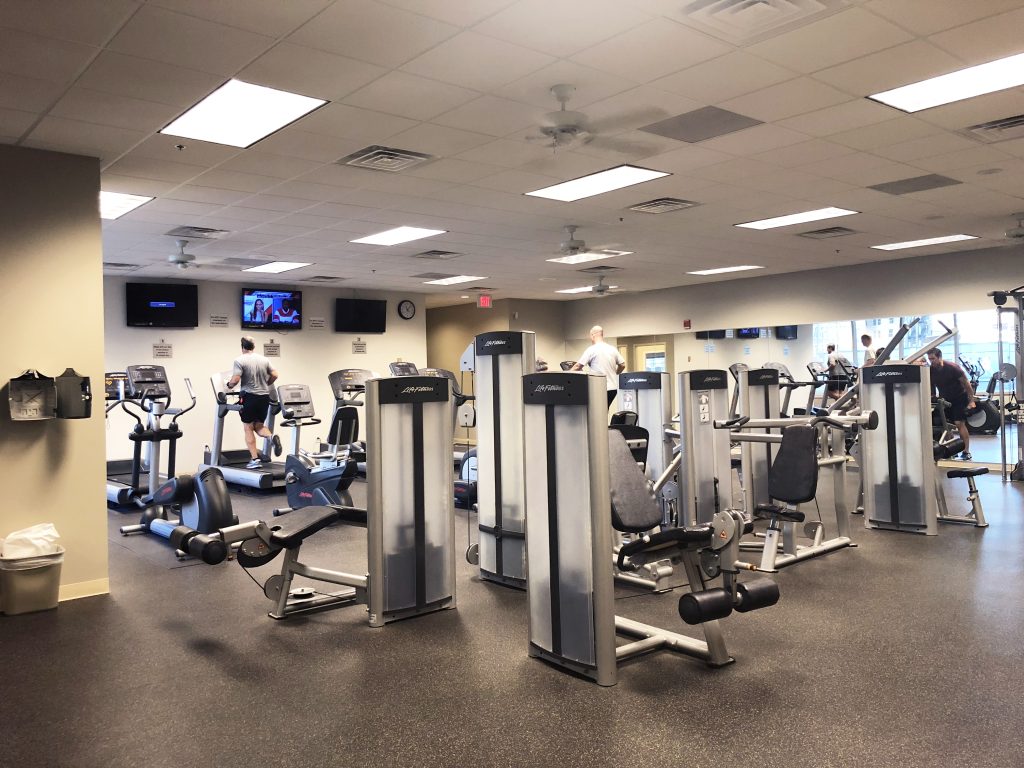 It's one thing to have an onsite health and wellness center to bring in employees, but it is a whole other challenge to get people to use it. At our flagship property, 1111 Main in downtown Kansas City, we recently introduced a full-time attendant and personal trainer in the health and wellness center. In just two months, the health and wellness center experienced a 300% increase in daily usage.
That tells us that people want to use these amenities, and they just might need some extra motivation. By making meaningful investments such as staffing and incentive programs, health and wellness centers can influence tenant employees to return to work and, in turn, maintain and improve tenant occupancy.
Hospitality and Security
Employees spend many of their waking hours in office space. Because we spend so much of our time in our offices, it is essential that we feel welcome and safe in our workspace. Property managers play an integral part in creating an environment where people want to come to each day for work.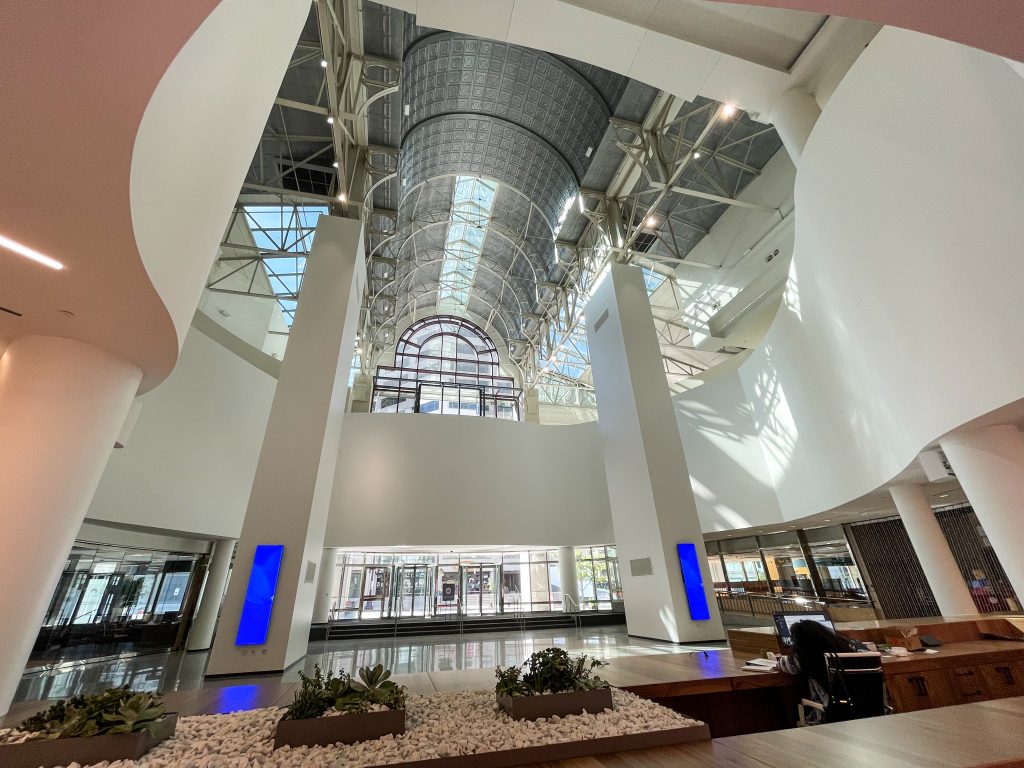 To create a safe and welcoming office building, our property managers adapt lobbies and ambassador desks to fit the needs of the building's tenants, prioritizing customer service. Friendly, helpful faces in lobbies and check-in stations go a long way to help our tenants and visitors feel welcome.
Front desk representatives can also work in partnership with third-party security services, controlling access to the building, surveillance and threat assessment. These front desk security representatives protect the building and keep tenants at ease while at work. 
Outdoor Space
Balance can be hard to find in the workplace. As offices changed during the COVID 19 pandemic, people spent less time outdoors and more time confined in smaller, indoor spaces. That trend stuck around long after the pandemic, and employee mental health suffered because of it.
In a recent study from the National Library of Medicine, researchers found that spending time in natural outdoor environments can improve employee mental health. In fact, they recommended employers provide access to quality outdoor spaces to contribute to the ongoing well-being of employees.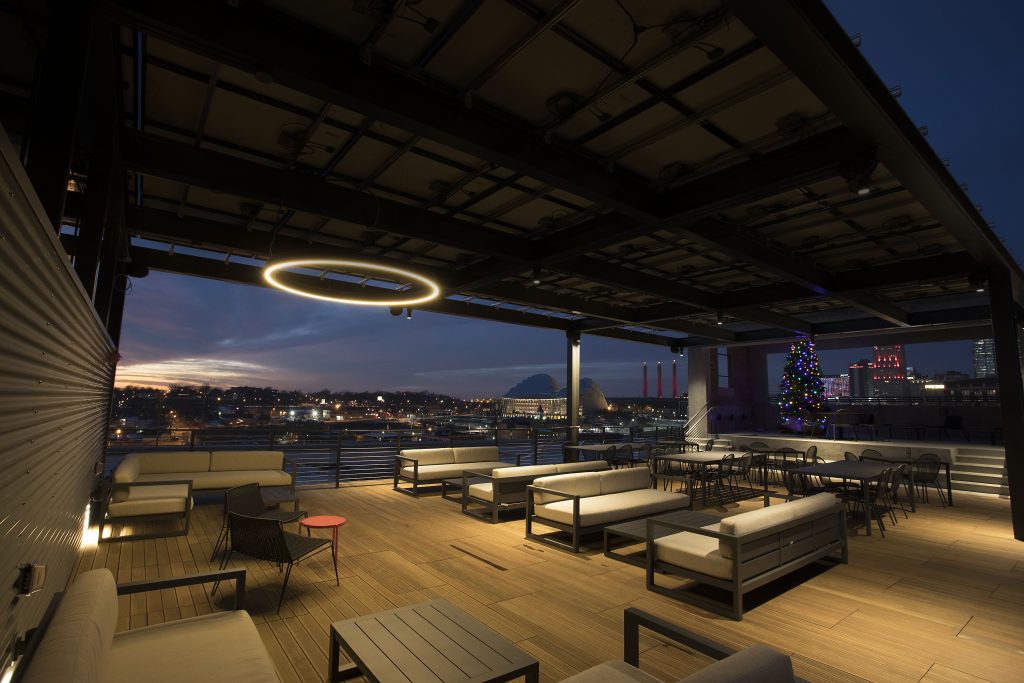 In commercial real estate, outdoor spaces are essential for employees to get away from their desks and conference rooms to break up their day. Outdoor spaces can also serve as a valuable revenue stream for property owners. At Corrigan Station in downtown Kansas City, we transformed the rooftop into an elegant venue with unbeatable views of the Kansas City skyline.  
Since the event space was introduced in 2021, it has provided a steadily growing annual monthly revenue stream. By the end of 2023, we expect a 23.5% increase in revenue compared to 2022.
In addition to the increase in revenue, the Corrigan Station rooftop has hosted events with high-profile guests, raising property awareness throughout the city.  
Community Involvement and Belonging
If the time in our home offices taught us anything, it is that work is better when you are with an engaging and encouraging group of peers. People come to work to hone their skills, contribute to their community, and build meaningful relationships.
Property managers and their management teams play an important role in creating a place where those relationships can grow. 
We understand the value of community in the workplace. To create a sense of community involvement and belonging, our property managers plan gameday tailgates, giveaway events, potlucks and holiday parties to get tenants to our amenity spaces to collaborate with their peers.  
At Copaken Brooks, we know there is more to the modern office experience than checking the amenity box, and we are always looking for new and exciting amenities to introduce to our properties that improve the experience for our tenants and the community.  By adding engaging amenities like health and wellness centers, hospitality and security, outdoor spaces and a sense of community involvement and belonging to commercial properties, we are helping property owners discover the next step in the evolution of the modern office. 
If you want to learn more about how we approach property management, contact us today.