WallStreet Tower: Developers are not the only ones investing in KC's Downtown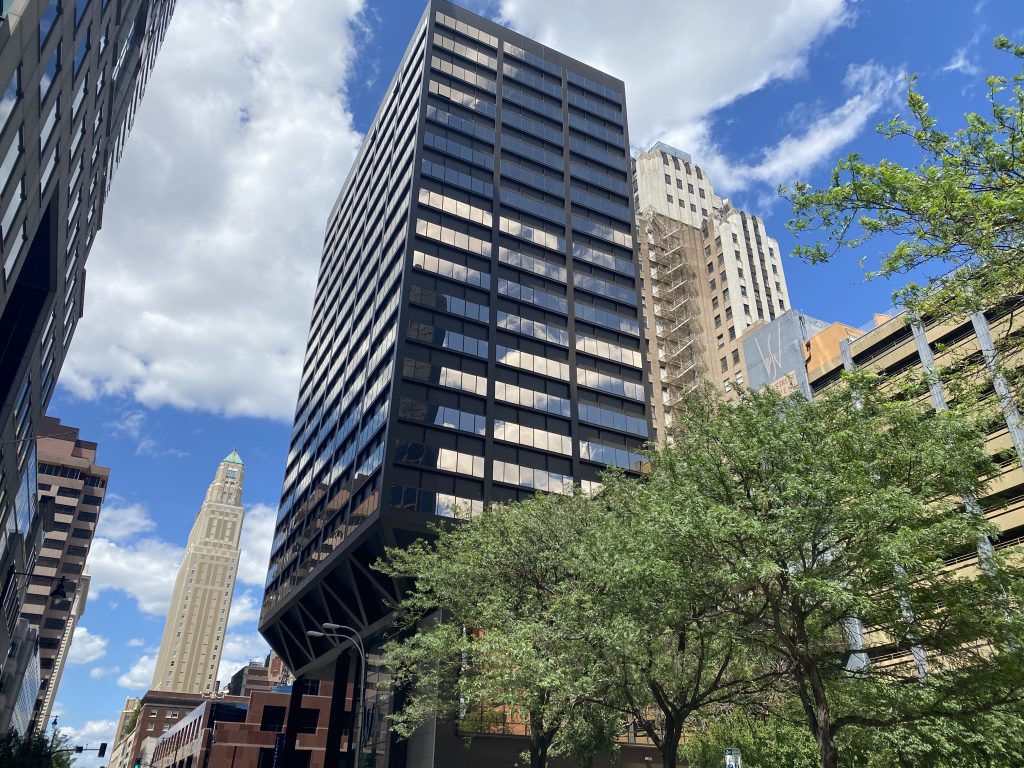 (Kansas City, Mo.) A multi-million-dollar residential project started in 2018 will soon be completed in the downtown loop this month, while another project launches in the garage. Owners of the WallStreet Tower, a luxury condominium development in Kansas City's downtown central business district, have invested $8.5 million in capital improvements for property modernization.
The building was originally designed by the Chicago architectural firm Weese, Harry, and Associates in collaboration with local architects Patty Berkibile Nelson Associates for Mercantile Bank. Construction began in 1972 and was completed in 1974. It is one of very few buildings in the world with the Modern Movement design that features an exposed steel frame (and one that's unique in Kansas City). Because of this unique architecture, it was the first downtown building from the 1970s to be added to the U.S. Department of the Interior's National Register of Historic Places.
The transformation of the building from commercial to luxury condos took place from 2005 to 2006 and was one of the highest award-winning condominium projects in Kansas City history with the HBA at that time. Since then, downtown Kansas City has continued its population boom. WST remains positioned as one of the few high-rise condominium developments in the downtown loop. The majority of new downtown residential projects have focused on apartments, and the ability to purchase a unit downtown remains in demand.
"Our community shares a sense of pride and responsibility in owning an architectural treasure and has overwhelmingly committed to investing in improvements to the building's critical infrastructure, common areas, amenities, and refinishing the exterior of the building," said Keith Gary, president of the WallStreet Tower homeowners association board of directors.
The owners passed a building assessment with a wide majority vote of support for a $3 million project that included replacing the original elevators, updating the elevator cab interiors, and repairing/recoating the building façade of WallStreet Tower. Copaken Brooks managed the WallStreet Tower projects. "We were able to leverage a number of relationships to identify the best and most cost-effective solutions for the WallStreet Tower projects," said Mark Thomas, Senior Vice President of Asset & Property Management at Copaken Brooks.
A subsequent $5.5 million dollar assessment was passed with majority owner support earlier in 2019 for significant upgrades to the WallStreet Tower parking structure. Construction is slated to begin in July. Improvements include installing a garage-wide security system limiting access to owners, structural improvements and cosmetic enhancements. "Unlike so many other projects in KC, WallStreet residents – not developers seeking tax abatements or handouts from the City – are paying for these improvements, demonstrating the strong commitment of our owners," said Carl Mueller, WallStreet Tower Garage Board Representative.
"We have seen the value of our condos rise steadily over the last 5 years, thanks to the Streetcar, new developments along Grand Boulevard, and a plethora of new restaurants within a few blocks. We were excited to invest in improvements because the community is optimistic about the long-term value of properties downtown," said one resident.